In today's world we are often bombarded with false information on what is good for us and what is safe to use regarding the healing herbs. Cut through the overload of information by starting with one of The Herbal Academy online herbal programs. Each program sets a foundation in the Introductory Course, explore herbs in greater depth in the Intermediate Course, prepare for business endeavors in the Entrepreneur Course, and delve into complex clinical topics in the Advanced Course. Choose the program that is best for you!
Sunday, April 17th is a very special day, and The Herbal Academy wants to extend their deepest thanks and gratitude to all of the amazing teachers, students, readers, and herbal friends in our lives. You have all shared so as we walk through life together on this beautiful herbal road – have a wonderful Herbalist Day!
Register right now to enjoy 15% off on all online courses and Herbarium memberships.
April 17th is that last day of this sale, so don't miss out!
Click here to select your course and begin your herbal journey today!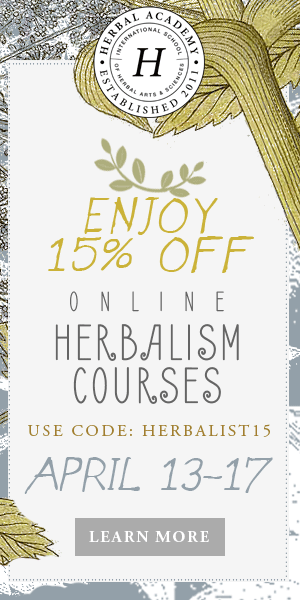 No matter what your level of knowledge is on herbs there is a course that will help take you to the next level of your herbal education. There are many ways to practice as an herbalist. You may strive to become a community herbalist –the one that people seek out when they have questions about how to use herbs in support of illness. Maybe you prefer to stay a little closer to home where you can put your herbal knowledge to good use by helping family and friends. You may choose to be a grower. Maybe your heart is leading you to open an herb shop, develop a natural product line, or become an herbal practitioner.
Whether you are looking into herbalism as a hobby or personal endeavor or preparing for a career, The Herbal Academy has designed herbalist program packages to suit your path and your educational needs!
April 17th is that last day of this sale!
Introductory Herbal Course
Build a strong foundation and learn the basics of herbalism with the Introductory Herbal Course. Learn about the medicinal properties of herbs as well as how to use them and how to make teas, tinctures, and body care products.
Thank An Herbalist sale price: $165.75! (Regular price $195)
Intermediate Herbal Course
The Intermediate Herbal Course takes students beyond the basics, exploring topics such as safety and side effects; discussions about theory and energetics; in-depth coverage of physiology; and guidance for herbal formulation.
Thank An Herbalist sale price: $335.75! (Regular price $395)
Entrepreneur Herbal Course
Excited to start your own herbal business yet not sure where to start? The Entrepreneur Herbal Course is just for you! The course will help you learn how to envision your herbal business and understand the regulatory requirements of making and selling herbal products.
Thank An Herbalist sale price: $505.75! (Regular price $595)
Advanced Herbal Course
Ready to work towards becoming a professional herbalist? The Advanced Herbal Course is designed to prepare students working toward a career as clinical herbalists.
Thank An Herbalist sale price: $1270.75! (Regular price $1495)
The Herbarium
Also on sale is a year long online membership to The Herbarium! Here you will find herbal monographs, photographs, thoughtful articles, and educational podcasts, videos, tutorials, ebooks and teaching charts. New material is added continuously, each and every month!
Thank An Herbalist sale price: $38.25! (Regular price $45)

Transparency & Appreciation: I want all of my readers to know that I do provide links on this blog to other businesses that sell products that I use and love, I will never post a link to anything that is inconsistent with my ideology.
When you do click on a link to a business that I have referred you to and you make a purchase, I will earn a small commission – the price to you though is always their regular price, or in some instances a special offer price.
When you do make a purchase you are showing me that you support my efforts in creating this blog for everyone to enjoy and learn from… I am very grateful to those who have chosen to read what I have written, and my referrals.
Thank you very much!
Regarding Health and Wellness – This site does not provide medical advice. I am not a doctor or health advisor. My purpose is to share experiences and information as I seek to improve the health of my family through a real food and natural lifestyle. Any statements or claims about the possible health benefits conferred by any foods or supplements have not been evaluated by the Food & Drug Administration and are not intended to diagnose, treat, cure or prevent any disease.