Shopping Guide to Herbal Supplies & Education
I began using herbs for remedies and in cooking over 35 years ago. I was just reflecting back on how different it was back then. We had a handful of books, some great ones that are still considered classics.
Herbs have been a part of human life, healing and survival since there were plants and humans. It's kind of mind-boggling to think that nearly 150 years ago herbs were all that people used to treat their ills and pains. Using herbs worked. If they hadn't worked I doubt that any of us would be sitting here right now.
I for one, am delighted to see and be a part of the herbal resurgence. Connecting and forming a consciousness with nature is so important. I hope that you will find these links inspiring, my wish for you is that your journey into the world of healing herbs is filled with beauty and joy.
Herbs & Herbal Remedy Making Supplies
You will find at Starwest Botanicals: organic tea, a very large assortment of herbs and spices for cooking and for concocting your own herbal remedies, nut oils, resins, seaweeds, sprouting seeds, all manner of supplies (tins, bottles, jars) for making your own herbal recipes (beeswax, clays, butters, salts), essential oils, and so much more.
—————————————————————————————————————————-
The Herbal Academy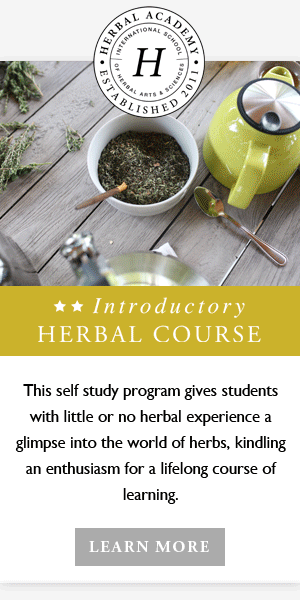 Whether you are looking into herbalism as a hobby, personal endeavor or preparing for a career, The Herbal Academy has herbalist program packages to suit your path and your educational needs.
Select from New Herbalists Program Packages, which includes:
Online Courses: Introductory, Intermediate, Entrepreneur, or Advanced
Additionally, provided are a Professional Herbalist Package, Entrepreneur Herbalist Package, Family Herbalist Package, Clinical Herbalist Package which is an extensive, designed for those who want to study it all.
You have options with these courses, I love the way they've tailored them to meet different criteria for the student, how cool is that!? Click here to see the Herbal Academy Courses
—————————————————————————————————————————-
Plant Healer Magazine
Featuring experience-based & adventurous writings by teachers, practitioners & plant lovers. Combining inquiry, inspiration & skills in artful celebration of the evolving folk herbalism culture.
Plant Healer: A Journal of Traditional Herbalism is a downloadable, lavishly illustrated, full color PDF magazine with over 250 page-long issues! – dedicated to the further informing, inspiring and empowering of all you practicing herbalists and advanced herbal teachers, eager students and impassioned beginners, conservationists and activists, informal community healers and unrepentant lovers of plants… as well as everyone taking any responsibility for their own basic health needs or those of their families! Plant Healer combines cutting edge science with heartful intuitive practice, personal stories that inspire and practical skills that enable. Imagine mating a credible clinical journal with a lushly edgy arts and culture magazine, and what you get is Plant Healer. There's never been anything else like it, nor will there ever be.
Featuring notable contributors: Paul Bergner, Matthew Wood, Kiva Rose, Phyllis Light, Susun Weed, Robin Rose Bennett, Jim McDonald, 7Song, Juliet Blankespoor, Jesse Wolf Hardin, Sean Donahue, David Hoffman and many, many more.
Topics Include: Therapeutics, Plant Monographs, Historic Herbal Traditions, Early American Herbalism, Curanderas and Medicine Women, Plant Mythos and Folklore Medicine Making, Cultivating Garden Herbs, Wild Foods, Foraging and ReWilding, Energetics and Constitutions, Tools and Tips for Herbalists, Field Botany, The Herbalist Mother, Herbal Articles for and by Kids, Fiction for Herbalists, Creating an Herbal Livelihood, Plant Conservation and Herbal Activism, Herbalist Art, Fashion & Culture. Click here to order Plant Healer: A Journal of Traditional Herbalism
—————————————————————————————————————————-
The Herbarium
Membership to The Herbarium gives you access to the Herbal Academy's library of eBooks, including the The Herbalist's Toolkit series and the Cooking with the Seasons series. A database including detailed medicinal uses of each plant, beautiful images and botanical prints, quick facts, and scientific research and articles, presentations, videos, and podcasts from some of the most brilliant herbal minds from across the globe, downloadable and printable charts and graphs as well donated herbal magazines, and more.
The Herbarium is an affordable membership program, designed specifically for readers and students to come, share, and share recipes and remedies in The Herbarium forum. A membership can be a great addition to your herbal studies or an alternative to formal education. Click here to become a member of The Herbarium.
Save
Save